Are you looking for perfect face oil that will also take care of your hair, feet, nails – simply – of your entire body? If so, then you must give Nanoil Jojoba Oil a try, which is a natural cosmetic of unique properties. Find out what you can gain thanks to introducing it into your regular beauty rituals.
When it comes to jojoba oil, much is said about it and the information isn't always related to the subject of oil. Jojoba oil rareness comes from the fact that this substance is just liquid wax. To simplify this issue, jojoba is referred to as oil because it's extracted due to a very similar method, with requires neither the use of heat nor further refining.
This natural substance is obtained from Simmondsia Chinensis seeds that, surprisingly, don't originate from China but from North America. So where does the name come from? It's the consequence of a slight mistake made by the scientists. In short, this is the result of mistakenly placing the materials used for making the first description of this plant among specimen originating from China.
Jojoba oil in beauty industry
Application of jojoba oil in beauty rituals is a very broad subject. In terms of its physical properties, jojoba oil has yellowish colour, its smell isn't intensive, is stable (doesn't go rancid, high temperatures don't have negative impact on it), is well-absorbing – all of this makes jojoba oil one of the best natural oils used for beautifying purposes. It can be successfully used as a single-ingredient cosmetic or mixed with face, body, hair, nail and eyebrow products.
What type of jojoba oil is the best?
Not all jojoba oils work alike. What matters is whether a particular oil comes from a trusted source, how it was extracted, and what its quality is.
Definitely, the finest jojoba oil is the one labelled as cold-pressed and unrefined because only such oil is the richest in precious nutrients and it isn't deprived of its properties during extraction. The essence of what's best in Simmondsia Chinensis is Jojoba Oil by Nanoil which bottle holds 100% organic and certified oil – without unwanted additives, preservatives or redundant fragrances. It's just the best jojoba oil that you can have. And, additionally, you can even order it online.
What should you know before reaching for Nanoil Jojoba Oil for body, face, hair and other?
Jojoba Oil by Nanoil – The exceptional composition
What makes jojoba oil stand out from other oils commonly used for beautifying purposes? The answer is simple: it's the composition that is almost identical to our human sebum that protects skin and hair against water loss and aggressive external factors.
Unrefined Jojoba Oil by Nanoil is mostly the richness of vitamins A, E and F that nourish, regenerate and display anti-aging properties. Additionally, this oil also offers precious fatty acids and phytosterols which composition is found unique as well. The most valuable substance though is squalene – an antibacterial and fungicidal lipid that naturally occurs in our sebum. Owing to the very composition, Nanoil Jojoba Oil absorbs fast, is non-overburdening and doesn't clog skin pores.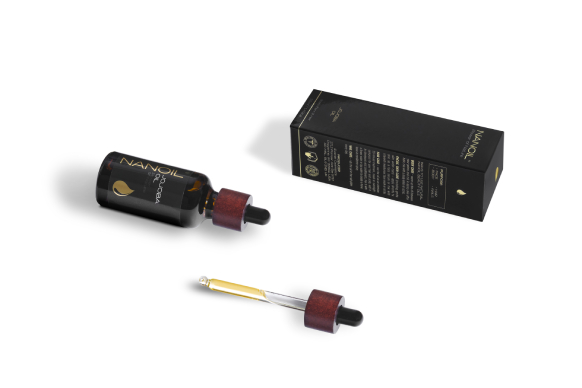 Jojoba Oil by Nanoil – The incredible effects
The effects produced by Nanoil Jojoba Oil might surprise, indeed. Suffice to use it regularly in order to discover the incredible properties hidden in jojoba nuts. What are the beauty purposes of jojoba oil?
First and foremost, it boosts skin hydration by filling up the gaps in hydro-lipid barrier by lubricating and preventing water loss. It exhibits anti-inflammatory and antiseptic properties which is why it soothes irritations and fosters proper skin functioning. Secondly, not only does the oil smooth out and add softens by lubricating skin but also it leaves dermis more elastic and evens skin tone by minimizing discolorations. It's perfectly suitable to treat problematic skin types because it reduces excessive sebum production, deals with acne and additionally slows down premature skin ageing. Last but not least, it's a natural UV filter.
The way in which Nanoil Jojoba Oil affects scalp translates into hair condition. When regularly rubbed into scalp, it reduces greasy root problem by slowing down seborrhea. Also, it prevents excessive hair loss. In general, jojoba oil maintains hydration and nourishment of strands as well as intensifies their shine and leaves them soft.
Jojoba Oil by Nanoil – Multitude of applications
It's important to realize that Nanoil Jojoba Oil can be applied to body and face; also, it's found incredible in terms of hair care. Jojoba oil can be used by people whose skin is problematic: acne-prone, oily, mature, sensitive. Moreover, it aids in taking care of hair that is: weak, oily and affected by dandruff. It's a good idea to use jojoba oil to treat thin, weak lashes as well as brittle and splitting nails.
How to apply Nanoil Jojoba Oil? Basically, it's determined by our preferences since it can be used in its pure form on skin and hair, but also it serves well as a base ingredient for homemade beauty products or as a booster of regularly used cosmetics. Naturally, jojoba oil delivers the best effects when applied in its pure form.